We are nearing the end of the sales period for the Autumn/Winter 2015 catalogue. If there is anything you have been thinking about getting please order it now before it retires. Here is a link to the
Retiring List
so you can check which products are affected.
Some of the bundles from the Autumn/Winter catalogue (stamps and dies/stamps and punches) will be carried over to the Spring/Summer catalogue launching 5th January 2016.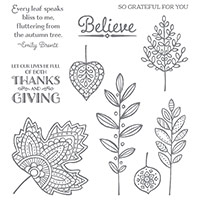 The above stamp set has been a very popular one in the Autumn catalogue, but sadly it is retiring. There is a matching set of dies on page 172 of the Annual catalogue called Leaflets Framelits which will be available until the end of May 2016, so you could treat yourself to the stamps now before they are gone and buy the framelit dies in the new year.
Hop over to my Pinterest boards to see one of these stamps turned into a Christmas tree for a card on my board '12 Cards of Christmas 2015'.
Enjoy all your Christmas preparations.
Julia